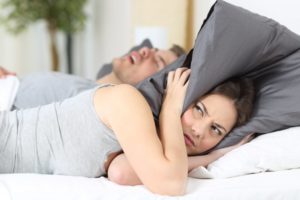 You wouldn't think Shaquille O'Neal would have much in common with Carrie Fisher, but the truth is they both suffered from sleep apnea. The disorder is more common than you might think. In addition, obstructive sleep apnea in State College can have life-threatening complications if not treated soon enough. Let's take a closer look at what sleep apnea is, and 5 celebrities who suffered from it.
What Is Obstructive Sleep Apnea?
Obstructive sleep apnea is when tissues in the mouth and throat collapse during the night, rendering you unable to breathe. This sends the body into panic mode, waking you up gasping for air. Although you might not remember these episodes upon waking, they can disrupt your sleep patterns, so you don't get the restful sleep you need.
Common symptoms of sleep apnea include:
Waking up choking or gasping
Morning headaches
Having a dry or sore throat upon waking
Depression or mood swings
Chronic loud snoring
What Complications Can Untreated Sleep Apnea Cause?
Not getting sleep apnea treated can have dangerous side effects, such as:
Imbalances in body and brain chemistry
High blood pressure
Elevated heart rate
Higher risk of heart attack and stroke
Celebrities with Sleep Apnea
There have been many celebrities who have suffered from the sleep disorder, including:
Carrie Fisher. The death of the Star Wars actress brought awareness of sleep apnea to the forefront of people's minds. It's unknown whether she knew about her own condition, but sleep apnea was one of the major factors, along with heart disease and drug use, which contributed to her death.
Roy Green. Before the former NFL wide receiver was diagnosed with sleep apnea, Green suffered two strokes and two heart attacks that were mainly attributed to the sleep disorder. He has seen his health greatly improve since starting treatment.
Shaquille O'Neal. The basketball player's wife put up with his snoring for years before suggesting he have a sleep study done that confirmed obstructive sleep apnea. Since then, he has worked hard to raise awareness of the disorder.
Jerry Garcia. The lead guitarist of The Grateful Dead died of a heart attack in 1995. His doctors considered sleep apnea to be a contributing factor in his death.
Justice Antonin Scalia. On the night that the former Supreme Court Justice passed away, his CPAP machine, commonly used to treat sleep apnea, was unplugged.
Obstructive sleep apnea is a serious disorder that can be life-threatening. If you think you may have it, contact your dentist right away.
About the Author
Dr. Donald Marks is a graduate of the University of Pittsburgh's School of Dental Medicine. Following graduation, he opened his private practice in State College, PA. Throughout his career, he has had many mentors, including Dr. Ron Nevins and Dr. Frank Spear, widely considered two of the finest dentists in the world. If you think you may have sleep apnea, don't hesitate to get treated by contacting Dr. Marks by clicking here or calling (814) 234-0329.